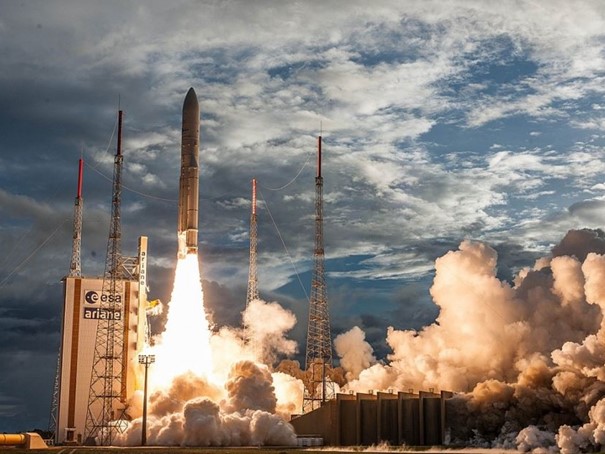 © CNES/ESA/ARIANESPACE/OPTIQUE VIDÉO CSG, 2017
Following the trajectory deviation that occurred during the launch of the Ariane 5 rocket on January 25, 2018, the development of the Kit Autonome comme Solution de SAuvegarde en Vol (KASSAV 1) was initiated. The KASSAV 1 project, carried out on behalf of CNES, represents a major advancement in the field of launcher safety. M3 Systems has developed the GNSS simulator as part of this project.
In this context, CNES aimed to create an autonomous localization kit capable of ensuring launcher safety. It is crucial to detect any trajectory deviation and take the necessary measures to avoid any major incidents. The KASSAV 1 project was thus launched with the objective of developing a localization kit based on inertial/GNSS hybridization.
In this regard, M3 Systems has developed a simulator for the GNSS part of the KASSAV 1 kit, compatible with the inertial/GNSS hybrid localization simulator provided by iXblue. The M3 Systems simulator was used for the qualification of the KASSAV 1 localization and is used for replaying flights or playing them in advance to determine the behavior of the GNSS part of the KASSAV 1 kit, which is on board the launcher.
However, the project did not stop there. The KASSAV 2 kit, the sequel to the project, aims to improve localization functionalities and, more importantly, incorporate the decision to neutralize the launcher in-flight in case of danger.
In this new context, advancements of the GNSS simulator can be considered to accurately represent the KASSAV 2 kit onboard the launcher. The KASSAV 1 kit already relied on multi-antenna and multi-frequency capabilities, and the M3 Systems simulator's purpose was to replicate this configuration using actual hardware (RF signal generation for antennas, dual-constellation, multi-frequency, GNSS receiver identical to the one onboard Ariane 5). KASSAV 1 is an autonomous localization kit for backup purposes, while KASSAV 2 aims to incorporate the neutralization decision onboard based on precise and reliable localization of the launcher.
The KASSAV project marks an important milestone in improving the safety of space launchers. By offering an autonomous localization solution, the KASSAV 1 project enables the detection of any trajectory deviation, ensuring the safety of space missions. With the evolution towards the KASSAV 2 project, equipped with advanced features such as autonomous neutralization decision-making, the envisioned developments in the field of autonomous localization pave the way for safer and more reliable space missions.